Gap Frame Press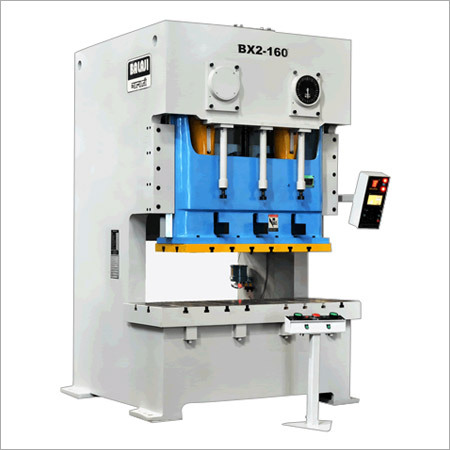 Gap Frame Press
Product Code : Bx2 Series
Brand Name : SHRI BALAJI PRESSES
Gap Frame Press
We have been affianced in providing Gap Frame Press in various models and technical specifications. Suitable for pressing small components and metal sheet. The offered press is manufactured by our veteran professionals using optimum quality components and pioneering technology. Widely used in different industries for forging and molding applications, this Gap Frame Press such as Frame Power Press,Gap Frame Power Press,2 Point Gap Frame Press, Gap Frame Press Machine, etc is widely appreciated among our clients and can be purchased at the most reasonable prices.
Product Features:
Rigid construction
High efficiency
Longer service life
Easy to use
Products More Details:

PRESS FRAME:

The BX1 Series frames are fabricated from extra thick high tensile steel plate. Highly rigid frame constructions assure minimum angular deflection and elongation during full load capacity. This feature ensures high precision press work for a longer period of time with minimum Die maintenance.

SLIDE AND GUIDES:

Heavy duty graded cast iron slides are designed to reduce vibration. Six face extra long and wide slide guides runs in durable alloy bronze lining. It ensures higher accuracy at Bottom Dead Center and also extends Die life.

Hydraulic Overload Protector:

A built in hydraulic overload protector completely assure press and tool safety during any overload situation. As it stop press automatically and after releasing the pressure jam prevents easily and return to normal operation in just by means of simple manipulation.

Electrical Panel:

We designed a user friendly simple and easy to operate control system (BPC-2.1). Programmable Logical Control based panel is accurate and reliable.

Pneumatic Panel:

The BX1 Series equipped with separate Pneumatic Panel which makes easy to monitor and control air ressures in run time.

Clutch and Brake:

A heavy duty dynamically balanced single disc combined clutch and brake unit is used for jolt free strokes and reduce noise. One board mounting provides easy accessibility for maintenance.

Lubrication System:

These presses are equipped with forged automatic grease lubrication system. A default monitor system ensures metered amount of lubrication for all points which results in smooth long running and high reliability.

Shut Height Indicator:

Slide mounted digital shut height indicator of least count 0.1 mm is standard with the press which helps operator to load the tools fast.

Motorized Slide Adjustment:

A motorized slide adjustment device (over 40 ton) consists of an imported brake motor that operates by push buttons which results in easy and fast tool setting.

Die Cushion (Optional) :

A pneumatic bellow type suspended die cushion ensures smooth operation at reduced maintenance cost and quick response.

Quick Die Changing System (Optional) :

Quick die changing system reduces press machine downtime due to die changes. Also increases productivity and streamlines production.

| | |
| --- | --- |
| STANDARD ACCESSORIES | OPTIONAL ACCESSORIES |
| Main Motor | Pneumatic Die Cushion |
| Press Control System (BPC - 3.1) | Photo Electrical Safety Device |
| Touch Screen Panel Display with Error Message | Anti Vibration Mount |
| Digital Crank Angle Indicator | Foot Switch |
| Automatic Grease Lubrication Device | Knockout Device |
| Hydraulic Overload Protector | Quick Die Change System |
| Motorized Slide Adjustment | Variable Speed Drive |
| Shut Height Indicator | Coil And Strip Feeder |
| Production Counter | |
| Dual Solenoid Valve | |
| Programmable Cam Switch | |
| Counter Balance for Slide | |
| Portable Operation Stand | |
SHRI BALAJI PRESSES PVT. LTD.
C-96, Sec-1st, Ramghat Road, UPSIDC, Talanagri Industrial Estate, Aligarh - 202001, Uttar Pradesh, India
Mr. Om Hari Garg (Director)